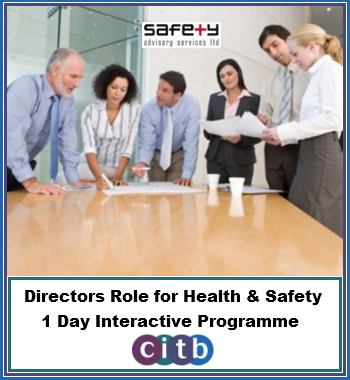 Introduction
This one-day interactive programme has been designed for company Directors with the aim of recognising the human and financial implications of health and safety legislation non-compliance. The programme will provide a summary of how to promote a positive organisational culture for health and safety. Workshop exercises throughout the day will give delegates the opportunity to discuss their thoughts about health and safety and their responsibilities in an open forum. The day concludes with delegates preparing an action plan for use when they return to the workplace. This will include a checklist to utilise within their organisations that will help to ensure compliance with legislation.
Programme Objectives
At the end of the programme delegates will be able to:
Recognise the moral, economic and legal costs/implications of decisions made in the boardroom that make their business liable.
Understand the importance of strategic management of risks.
Appreciate the consequences of failing to manage health & safety effectively.
Understand the importance of competent duty holders cooperating, communicating and coordinating health & safety throughout the whole project.
Recognise the need to appoint competent health & safety assistance and the limitations of such an appointment.
Identify the basic tools for introducing a proactive health & safety culture into their organisation.
How you are Assessed
The method of assessment will be by multiple-choice questions at the end of the programme, as well as being expected to be interactive during the programme.
Duration - 1 Day
Price on Application
Grant Availability
Grants are available with each of the SiteSafetyPlus Programmes, for more information about what you can claim and how, follow the link below.
For further information please contact us.