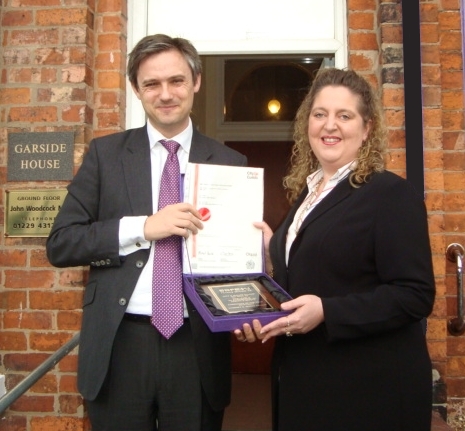 HEALTH AND SAFETY CHIEF WINS NATIONAL AWARD FOR OUTSTANDING SUCCESS IN MANAGEMENT OF HEALTH AND SAFETY
Safety Advisory Services Ltd recently Presented Lyndsey Wicks CMIOSH, MIIRSM of Veolia Water Solutions Ltd the Award for NVQ Candidate of the Year 2010 – 2011 after successfully completing her NVQ Level 5 in Management of Health & Safety at its Crewe Training Centre.
Lyndsey is Group Health & Safety Manager for VWS (UK) Ltd, she has been outstanding with her submissions and dedicated to her profession applying common sense with health and safety related issues.
To the left you can see Lyndsey being presented her award by John Woodcock MP
Here is a link to John's website http://www.john-woodcock-for-furness.org/
Here is the full article taken from page 17 in the North West Evening Mail Tuesday 29th November 2011: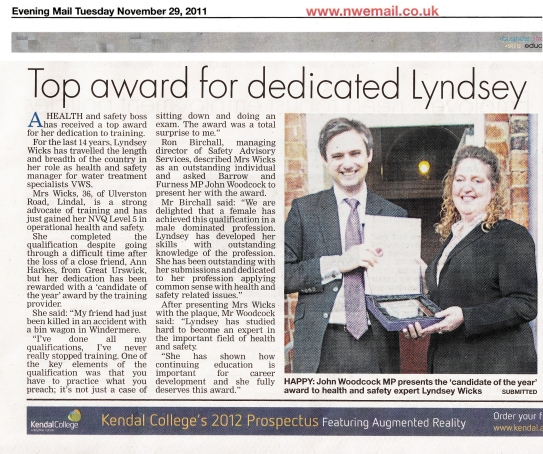 To see Lyndsey's feature in the North West Evening Mail's website from Tuesday the 29th of November 2011 then please Click here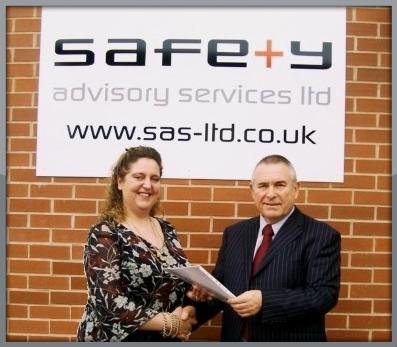 Left to right: Lyndsey is presented her award by Ron Birchall (Managing Director of SAS Ltd) in recognition for her dedication and hard work throughout the year.
News Archive