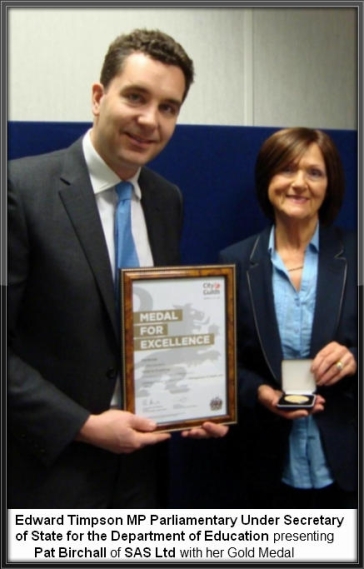 Safety Advisory Services Ltd celebrated after a second gold medal for excellence win, the second year in a row with Awarding Organisation City and Guilds.
City & Guilds' Medals for Excellence is a global programme that has been running for over 100 years. It recognises the achievements of Learners and Lecturer/Trainers in the UK and internationally who produce exceptional work, or overcome the odds to achieve their goals.
The Medals for Excellence programme recognises those who achieve the best results, but also those who although not at the top of their class, go above and beyond what is expected of them and show a true journey of progression.
Pat Birchall was recognised for Outstanding Performance as an Assessor/Tutor for the Level 5 (QCF 7) NVQ in Management of Health and Safety (Higher Level Award), the Centre was honoured for its high standard of teaching and training.
Safety Advisory Services Ltd specialises in Occupational Health and Safety including Waste Management and Recycling combined with the Built Environmental Programmes and deliver to top name organisations across the UK and overseas including Enterprise, Veolia, Lloyds Banking Group, Co-operative Banking, Bombardier Transportation Ltd and Basell.
Pat was presented her medal by Edward Timpson MP Parliamentary Under Secretary of State at the Department for Education and will attend the Lion Awards Ceremony in June 2013 at the Roundhouse, London.
Safety Advisory Services Ltd would like to pay a special thanks to Edward Timpson MP for his ongoing support.
If you would like any further information then please do not hesitate to contact us direct on 07580 255508 or email us at services@sas-ltd.co.uk
---

Pat has been entered into the People's Choice Award, in which Medal Winners, their nominators, colleagues and friends can vote for them to be recognised with a special award at the Lion Awards.
The People's Choice Award is the only category where the winner is chosen by public vote. Voting is now open until May 17. Please click here, scroll down and vote for Pat!


---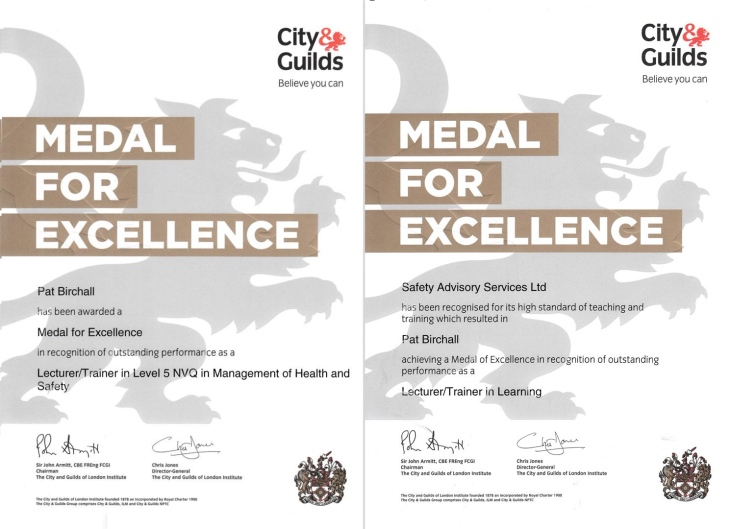 News Archive